"Let Us Fit You Into The World Of DeanZign"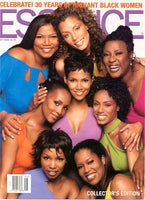 30th Year Anniversary Cover
This Essence cover was the highest selling cover in the history of Essence Magazine. Featuring some of the most influential women in Hollywood. Queen Latifah, Halle Berry, Jada Pinkett Smith, Vivica A. Fox, Loretta Devine, Regina King, Elise Neal and Michael Michele. Angela Dean designed and selected the styles and colors to fit the personalities and enhance the beauty of each leading lady.